Aquator® Product Description
Tank Solutions Dual Chamber, Oil-Water Separators are designed to separate light liquid pollutants from contaminated wastewater. The Dual Chamber AQUATOR® Class 1 Commercial Oil Water Separators are available in many sizes and feature two chambers within one tank.
The Aquator® range are suitable for a wide range of applications, including:
Service stations
Refuelling areas
Power stations
Substations and switchyards
Mining and heavy vehicle maintenance
Wind Farms
Waste transfer depots
Asphalt plants
Product Features:
Separation Method – Coalescing Media
Flow rate – up to 50 L per second (higher flow rates are possible)
Spill Capture Capacity – Minimum 1500L – 9000L as standard (higher spill capacities are possible)
Industry Standards – All Aquators are manufactured to meet or exceed the requirements of BS EN858-1 2002
Custom manufactured tanks can be supplied upon request
Download our Aquator Technical Data Sheet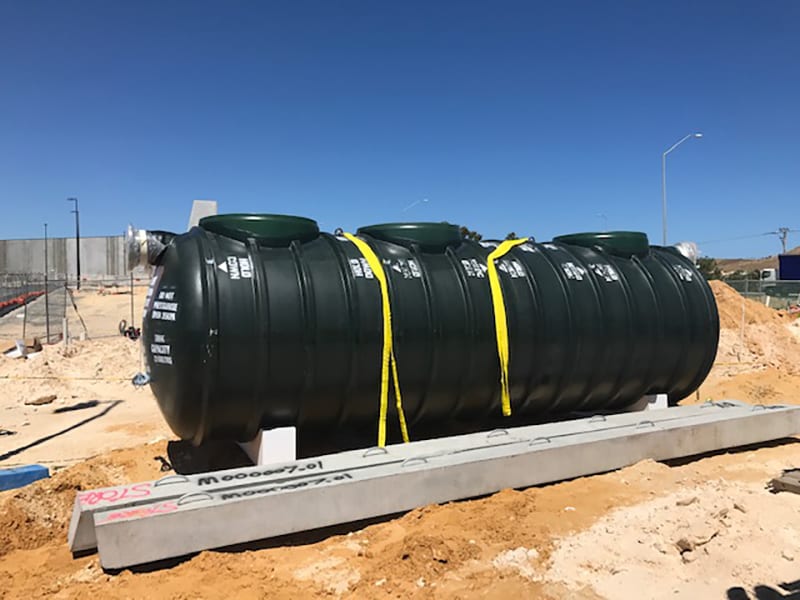 How the Aquator® works
All collected liquid is treated and no bypassing is possible. In the event of a significant fuel/oil/hydrocarbon spill or filling of the oil containment area over time, the emergency stop valve will automatically activate to prevent the pollutants from discharging to the drain or waterways. The Aquator® is gravity operated, therefore, it will continue to operate at full effectiveness even in the event of a power failure.
This enables hydrocarbon & silt capture and storage in the first chamber. Any remaining hydrocarbons are filtered out by the coalescing filter in the second chamber.
The coalescing process in the second chamber allows for the separation of smaller globular light liquid pollutants to reduce the light liquid content in the outlet to less than 5 mg/L (5 PPM).
Advantages
High Strength – all Aquator® oil water separators incorporate integral ribs for maximum strength and undergo stringent testing during manufacture and before they leave the factory
Durability – All Aquator® oil water separators are constructed of virgin resin and glass fibre reinforcement providing long term protection and life in underground applications
Meets industry standards – Aquator® oil water separators are manufactured to meet or exceed the requirements of BS EN858-1 2002 and are independently tested to ensure they continue to meet this standard
Technical Support – Tank Solutions can provide application and installation technical advice and support for your project
Independently Tested
The Aquator® Oil Water Separator has gone through extensive third-party independent testing to verify its compliance with BS EN858-1 2002. Reports from the University of Adelaide and University of Newcastle are available on request to show the compliance to this standard.