The Double Wall "Self Bunded" Storage Tank offers a relocatable cylindrical tank which provides maximum structural design to handle ever increasing pumping rates.
The Tank Solutions Self Bunded storage tank range minimises the requirements for civil works with onsite bunds together with the problems associated with catchment and disposal of rain water.
Suitable for a broad range of uses:
Our tanks are capable of being moved to any practical location.
Suitable for Petroleum, Petrochemical, and Chemical liquids. The approvals allow storing and dispensing of Flammable and Combustible liquids in the following ranges:

Up to 55,000 litre for Class 3, PG II, PG III, C1 & C2 liquids. (ie: motor spirit,
etc.)
Up to 110,000 litre for Class 3, PG III, C1 & C2 liquids. (ie: diesel, etc.)
Dimensions and Capacities:
For a complete overview of our self-bunded storage tanks' dimensions and capacities, check out our Technical Data Sheet.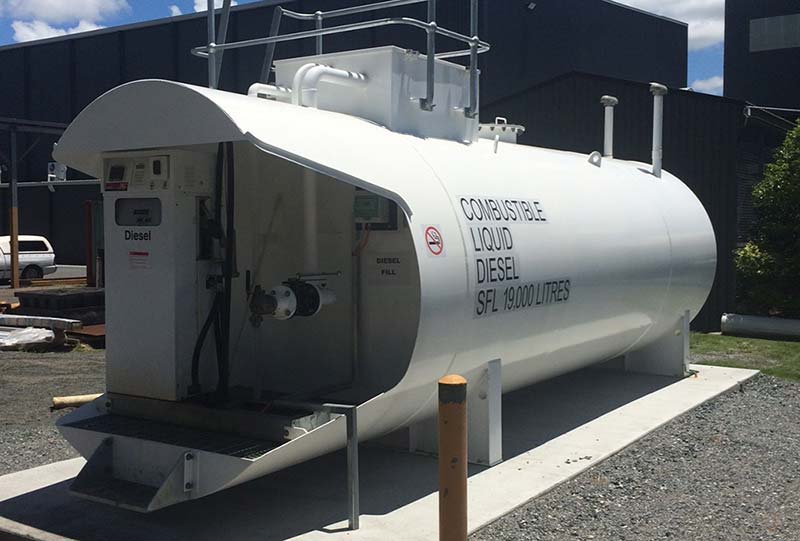 Manufacturing Standard
Manufactured to meet or exceed industry and statutory requirements: AS 1692, AS 1940
Additional features:
Our customisable self-bunded tanks which comply with AS1940, Section 5.9 also provide overfill protection in the form of mechanical or electronic cut off.
This tank also includes an audible overfill alarm to warn the delivery driver in advance. Our Self Bunded range also includes a fire rated ball valve and emergency venting where applicable.
---
Downloads